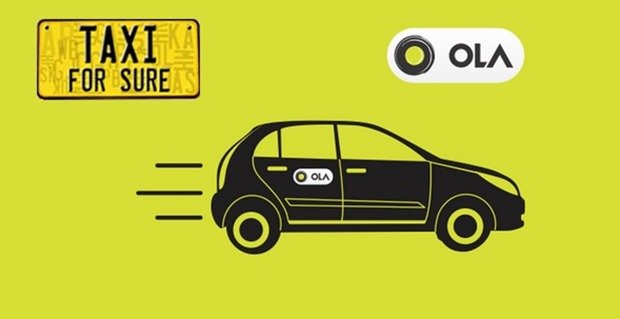 How does Ola cabs make money? – As of now, Ola is not looking to make profits. Rather, it is trying to capture the market by innovating approach and predatory pricing. Since it is not a listed company, no detail data is available about their income and expenditure etc.
However, they have enough money to keep up their operations even with the current fare they charge.
As per the reports Ola cabs charges the taxi owners a 10-15 percent commission on an average. As per a report I read in Economic TImes, this can be 20%.  However, Ola has not yet registered profits.
The amount raised by it till now includes:

$210 million from SoftBank Corp Series D
250 crore ($41.8 million) from Steadview Capital and  Sequoia Capital Series C
$20 million(as per media reports) + $3.2 million from Matrix Partners and Tiger Global Series B
$5 million from Tiger Global Series A
Ola is currently valued at $1bn(Rs 6100cr).
How do I start a business with OlaCabs?
Firstly you have a taxi number cab either mini/sedan.  Go to ola/uber office.. Submit your documents and you are ready.
Steps To Attach Your Car To Any Of These Cab Companies, Just Follow The Simple Steps Which Listed Below:-
You can attach new car, or also you can easily connect your current used commercial car, but it must be in good condition.
You can either hire a driver having a commercial license or else you can drive cabs yourself.
Documents required to apply for cabs like Uber & Ola are Id Proof, Police Verification and PAN, UID, Bank Statements or Driving License.
For the registration of these cabs company, you need to contact them, and their contact details are given down below.
Before moving forward with this business, you have to open a current account.
You need to apply for Income Tax and Service Tax Number registration as it is required to proceed with these cabs company in India.
(Ola & Taxi For Sure) and Uber have already made their offices in all those cities in which these cabs are currently running and cabs business going on.
So you can easily contact to you nearest regional offices or else you can directly contact with Main Office to attach your car.(To communicate with them you have to look for the contact details which is given down below)
After all these registrations you will get new smartphone within a week with the app featuring on it.
Your representative cab company will call you for some inspection.
They would furnish you with all the details, necessary guidelines and Smart Phone with the featured mobile app and other things.
Ola provides these types of car to their customers:
Ola Prime Sedan
Ola Mini
Ola Autos(Auto-Rickshaw)
Ola Share (Share Your Cab With Someone Else)
Ola Rentals (You can Rent a Car)
Ola OutStation
Ola Luxury
Taxi For Sure Cabs
How Much Money & Bonuses Ola Cabs Pay:
On completing a single ride, Ola company takes only 10% of commission on the total amount of bill which will be calculated by Ola app itself.Ola also provides bonuses which are given down below
Peak Hour Timing :(7 am to 12:30 pm and 5 pm to 11 pm are considered as peak hours)
Bonus On-Peak Hours – Whenever you complete any ride on peak hours then you will be awarded 250INR to your account as a bonus, and it depends on you how much you complete ride on peak hours.For each ride 250INR as the bonus on peak hours.
Bonuses On Airport Drop – Whenever you drop a customer to an airport then you will be awarded 800INR to your account.
Bonuses on 12 Ride Completing – Whenever you complete 12 rides in a single day then you will get the 4500INR bonus in your account.
Contact Details Of Ola Cabs For New Car Registration:
How much can I earn by investing with Ola?
Ola cab driver about their payment and below is my understanding based on it..
The amount that you pay for your travel is divided between the cab owner and the company.Major part goes to the driver and a specific percentage goes to the company(say 10%)
Apart from what you pay for your travel, the company pays an incentive everyday to the driver based on the number of rides he takes.Roughly its as below
14 rides a day- Rs 6000(per day)
12 rides a day-Rs 4000
8 rides a day -Rs 2000
less than 8 rides- Nothing
So the income of an Ola cab owner(who drives himself)= Percentage of the fare for each ride + Incentive given by the company.
Due to heavy traffic its rare that driver could complete 14 rides a day. however assuming he takes 12 rides his daily income would be 4000+fare.
That is around Rs 130000 a month.
Usually the amount he receives as fare goes for the fuel.Apparently the business model of Ola clearly shows that they are not looking for profits right now but for business reach and to become a household name.(They have huge funding and shouldn't matter much)
If the owner is not the driver,reduce say 30K as driver's salary. Still owner easily makes around Rs 90000
Just Idea.. .
Purchase a new Vehicle: 19L (Toyota Innova)
Monthly income: ~ 1,00,000
Fuel and Driver wages: ~30,000
Vehicle Maintenance: ~ 5,000
EMI: ~ 30,000
Income: ~ 35,000
The above numbers hold true if you run the car one shift. The best thing to do is run the car in 2 shifts. When you do that the number look like follows:
Monthly income: ~ 2,00,000
Fuel and Driver wages: ~60,000
Vehicle Maintenance: ~ 5,000
EMI: ~ 30,000
Income: ~100,000
The device usage charges ( Ola device + their 3G data) is 50 INR per day.
Total driver charges are – 20300
CNG chargers are – 23 X 550 – 12650
Device charges – 23 X 50 – 1150
Toll charges (monthly pass) – 1400
TDS (1% of ride earnings) – 425
TOTAL EARNING – 39945 INR
Is doing business with OlaCabs profitable?
Yes , you can invest/partnership with OLA.
Currently OLA is doing good , many big industrialists have shown interest in investing OLA.
Recently  Tata group has aslo  invested in OLA, this is also a positive vibe to state that OLA is doing good. When we see the offers given by all these upcoming ventures merucabs , zoomcar, taxi4sure .. by pumping vc funds …there is high tide for these businesses and All are doing excellent.
Many people are doing the same thing , they attach their vehicle to these firms, Similarly you can also hire a driver and do the same.
To give you more insight , I would like you to know about a fact about "UBER" World's No. 1 Taxi providing service firm doesn't have a vehicle of their own.
What is the business strategy of OlaCabs?
Ola and Uber, both are just following the strategy for expanding their business operations and gain customer base in India (and around the world for Uber).
So, Ola started after Uber and hence Ola 90% is a copied model of Uber. Though, the founder claims it isn't.
Ola use to pay heavy payouts to drivers when they were new. This pay has got drastically down now.
So their strategy was to gain the maximum number of cab drivers to get into their business model, and of course they got success.
After this, they made the cab service extremely cheap by offering various deals to the customers – to which even people who use to travel in bus were taking cabs (I hope most of us remember the free trips with Taxi for sure for 5kms, when Ola bought it) Again Ola got success here.
Since, Ola is trusted company and has a brand name, they are still not cheating anyone – neither the customer nor the drivers. As their business model is very strong. The business model has not yet changed. I really appreciate it.
So, during early days Ola promised minimum Rs. 18000/- per month to a driver, if his device is active for 12 hours a day. Even if the driver didn't get trips and got a revenue of less than Rs. 18000/-, Ola gave it from its pocket. [This model is still in effect]
Those days the drivers use to get huge incentives. There were drivers who earned more than a Lac a month.
By paying these incentives Ola was at a loss, because everyone here knows Ola charged less from customers and paid more to the drivers.
One thing which not everyone knows is that Ola use to charge 20-24% of each trip as a service charge. They are charging this since the starting but drivers didn't notice it as they were getting 3-4 times of that 20-24% as incentives.
Now that there are ample number of vehicles on the road, all those good days for the drivers are gone. Incentive is limited to Rs. 500/- for 10 trips a day and Rs. 700/- for 12 trips a day. Still cutting off 20-24% as service charge.
Drivers are still at a profit if they complete minimum of 10 trips a day.
Ola, as we all know is a well funded company – so it didn't affect Ola to pay more to the drivers.
People are used to cabs now because of many many reasons – comfort, fast, easy, anywhere, etc. So it will not effect it if some drivers leaves Ola which is not a good idea as still they make good monthly income.
"And now Ola makes 200000 trips in a day!"
Many cab drivers are now not able to complete 10 trips in a day. Still the company is not going in profits like Flipkart.
But now the Ola days are coming. What they have invested will take back in double.
BTW Ola was valued at $5 billion as of September 2015. Once the company goes public, will bring a few more billions to the valuation.
Which cab service has the better business model, Meru Cabs or Ola Cabs?
Meru owns its cabs and the drivers are franchisee who rent the car at a certain rate from the company. Hence, the onus to make money and pay the company its cut *each day* is on the driver. Of course the call center pushes leads to them, but the drivers aren't just fixed employees. The company also has to own a lot of vehicles. Meru cabs works as city taxis, however you cannot hire one for half day / full day or outstation ride at a fixed cost.
Ola Cabs aggregates cars from small tour operators / individuals. The drivers are on a fixed salary and the cab is branded Ola, works exclusively for Ola and thus the company (OlaCabs) doesn't own the cars. Ola cabs has its apps, call center, outstation hires, city taxi and half/full day rentals.
Technology Use:
Meru has its profiling done in the earlier days for the robust backend it has built and Ola has its own technology and mobile support. In fact, compared to a standard GPS kit on Meru, Ola cabs have an Android phone that does the trick. Which one is superior technology? As a consumer I don't care until they perform as intended. So far I have seen both working just as intended.
Operations:
Meru definitely has more work to do. Maintain the cars, recruit drivers and manage odd incidents of strikes. However their model certainly gives them more control over the cars. Unlike Ola where the risk of a tour operator pulling out remains? (Note: I have NO knowledge of either companies contracts with drivers / car owners).
Ola so far hasn't run into situations of a strike and that is unlikely given their model. They have also chanced upon by asking the car owners to  employ 2 drivers per car, thus running the same car almost 24×7 (PS: Not sure if some Meru drivers do the same).
Customer Service / Faster Delivery:
Time would tell. Meru used to work for me, but after a point I just stopped getting any cab in a reasonable amount of time. OlaCabs being new and given the realtime mobile app works better currently. But we should judge only after OlaCabs has scaled to a somewhere the levels of Meru (in terms of no of cabs running) to measure.
Financial Viability:
Meru runs the risk of owning too many cabs. Their investment is much higher. Ola runs risk of not being able to scale up quickly, standardizing and keeping together different car owners and provide consistent service. Only time would tell how it went.
Don't think either company is in profit. If a cab company can run in profit (given it is an old model), an branded aggregator like Ola can too. Both can succeed.