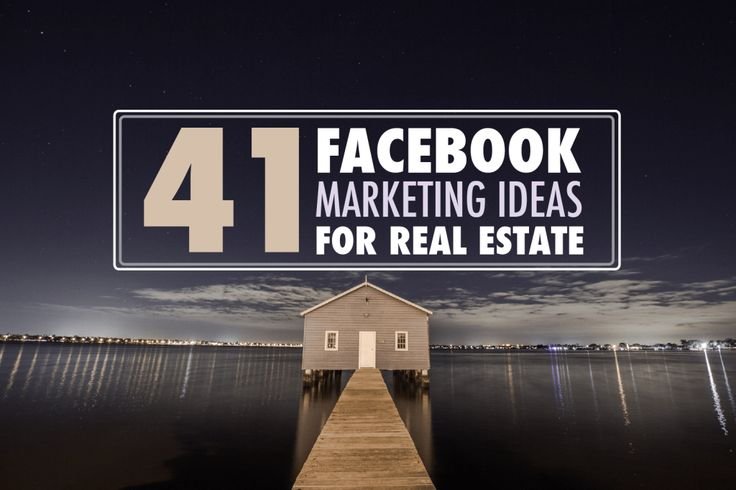 Facebook Marketing for Real Estate Agents – Facebook is a powerful platform where you can generate more business and build your brand awareness. here you can learn how to make a Facebook marketing strategy for real estates business.
If you're currently not doing Facebook marketing, you're missing out on one of the biggest marketing opportunities of our time!
So you run a real estate business and you're looking as always for new clients. A lead is nothing more than a potential new client, and today the fastest way to collect a lot of them is for sure this amazing internet thing… however, this is much easier said than done.
Must Read: How to Convert Real Estate Lead to Sale?
The number of businesses realizing the potential of online advertising and starting to learn how to leverage it is obviously increasing more and more. The bad news is that platforms like Google Adwords and Facebook ads work with a bid system, and in the most competitive markets (like realtors one) the cost per click nowadays can be very expensive.
Facebook is nonetheless a very powerful tool for a real estate agent, giving the opportunity to build awareness, drive traffic to your website, and in the end find new potential clients. With an advertising campaign you'll be able to target the exact type of people you want to reach, thanks to all the informations Facebook knows about us.
For example you can choose to show your ads just to people with higher household incomes, or to those who recently had a major life changing event, because someone who just got married or had children is likely to be interested in purchasing a new home in the near future. Pretty huge, isn't it?
Marketing on Facebook starts by setting up a business page. Although many agents use their personal profile, it's better to create a business page, for two reasons: It's more professional, and it allows you to market to your followers more efficiently using features not available in your personal profile.
Your page is a conduit, not a destination
Here's where the paradigm shift begins. We need to pivot from "trying to create engagement" on our business pages to realizing that our page is a conduit between people we've never met and our database.
Your Facebook business page is not a destination. It is not a community. It is a funnel. A conduit. It's the slide between the masses on Facebook and your database.
In other words, stop trying to create a "community" on your page and focus instead on creating a valuable conduit between Facebook and your database.
In reality, you want to create your community within your database, not on a "rented" platform.
Stop trying to create engagement and start focusing on providing value
What does that look like? It looks like giving the answers to your prospects problems.
When you try to only give them home searches or CMA's, you are seen as a salesman, irrelevant to them, and someone who doesn't understand their journey.
Stop being self-serving and start actually serving. Consumers don't care why they shouldn't sell FSBO. They dismiss articles and such that promote using real estate agents. In other words, don't fall for the industry thought on "teaching the public how valuable real estate agents are" because you will get no where, fast.
Instead, show them how valuable you are. Show them they mean something beyond the transaction. And if they don't actually mean something beyond the transaction to you – take your smarmy salesman tactics to the local used car dealership and push your wares there.
Remember, you need to help them, with their real problems… not what you perceive their problems to be.
Our industry is never short of advice on what the they think the consumer wants or needs. Unfortunately, we're wrong. Pretty much all the time. Just look at the offerings that are out there for consumers… "get your home value instantly" and "check out these homes for sale" and "get this home buyers guide" etc. etc. etc.
Find out what their real problems are… problems and challenges they face along their entire homeownership journey. Then, give them solutions. And no, "use a real estate agent" is not a solution.
Let's face it. Problems aren't solved simply because a consumer uses a real estate agent. In fact, problems are often created when another person gets involved, so don't resort to sales tactics that the consumer sees right through.
Start solving their real problems along their home ownership journey without attaching a "sale" to it.
Facebook Page Marketing Tips
Once you've set up your page, follow these tips to keep it fresh.
Update Your Cover Photo Frequently. Use the cover photo to highlight the homes you have for sale. You can change images quite often so use this space to your advantage. Follow Facebook's policies when doing so.
Create Helpful Tabs. Add a tab to your Facebook page that highlights featured listings, such as this one from
Remember the 80/20 Rule. 80 percent of your content should be customer-focused, and 20 percent should center on you and your business. Using this formula will encourage more engagement and interaction.
Respond to Comments. Reply to comments posted on your page, good or bad, and do so promptly. This signals current and potential clients that you are paying attention.
Use Photos and Video. Whenever possible, use images or videos in your posts. According to data from ppcchamp, an online marketing company, posts with photos tend to get 120 percent more engagement than those without them. Posts with photo albums receive 180 percent more engagement.
Focus on Local Interests. People want to know what is happening within their local community, a fact that is especially true for those moving to a new area with which they may be unfamiliar.
Share Interesting and Informative Facts. These can stimulate likes and comments.
Inman, a source for real estate industry news, used this colorful image coupled with an interesting fact on its Facebook page.
Offer Helpful Advice. Tips about how someone could stage her home for sale or decorate her new home are good ways to gain likes and comments.
 Use Humor. It never hurts to sprinkle in a little humor when appropriate.
Consider the following photo, posted at Hooked On Houses, from an MLS listing where a homeowner took the phrase "Help your buyers visualize living in your home" quite literally.
Post Images of You, Your Team, and Happy Clients. Posting photos of you and your team participating in community functions or at office parties helps to put a personal face on your business. Potential buyers want to know that they are dealing with real people, not just faceless corporations.
Post Photos of Fancy, Unique, and Eye-catching Homes. These can also arouse interest and foster likes and comments.
Rely on Facebook Page Data. Facebook Insights, an analytics component tied to Facebook pages, provides valuable data about followers — such as their age, gender, and location — that can help you better understand your target market's demographics.
Tips to Grow Your Follower Base
Lastly, here are some ways to use your page to grow your follower base.
 Gather Leads. Have visitors sign in when you host an open house, and then send them a request to like your business page shortly after their visit. Doing this can help you gain new followers because they are more likely to remember you now rather than a week down the road.
 Run a Contest or Sweepstakes. Companies like Wishpond, Antavo and Offerpophelp Realtors set up contests and sweepstakes, to generate leads.
Use Your Personal Profile. While the best place to market your services is on your Facebook business page, it is helpful to mix in some real estate-related posts each week on your personal profile. It reminds your friends that you have the business page and gives them an opportunity to like it if they have not already done so.
Ignore the "engagement numbers" and focus on the "audience" numbers
Always remember, that 99% of your tribe are simply going to lurk. They will not engage and trying to change their behavior is virtually impossible.
There is actually a 1% rule when it comes to Internet culture. Rather than fight the rule, leverage the rule.
Know that engagement is not the goal, but acquirement is. You want to acquire audiences that are highly targeted and you want to nurture them so that when you do "ask for the sale" they respond to you. Your audiences include targeted page likes, website visitors, your email database and your snail mail database.
Your offline audiences must be included in this as well. Add your offline audiences into your email database as quickly as possible. Your goal is to bring all audiences into your email database.
In truth, there is nothing wrong with engagement, it's just that we need to stop focusing on it. Stop looking at that metric. Focus on your audience numbers rather than your engagement numbers.