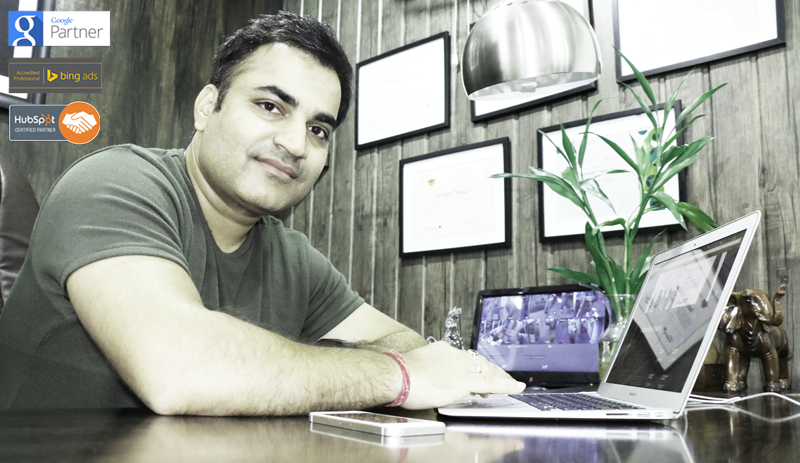 Youtube Video Ads Expert – Video Ads Campaign Creation Service Company India – Engage new viewers outside of YouTube
We are a digital marketing company help to create Youtube ads creation in India. PPCChamp – PPC Expert for Youtube ads already worked with 450+ clients… We works with music, video creation company.. punjabi singers, youtube chennels company… etc.
Work with us and get results…
Call for Free Video ads campign help - 9915337448
According to Youtube, based on the current growth since 2016, 96% of adults use youtube and 56% of these users use youtube as their provider.
How to fix Unsupported Punjabi language videos on YouTube – According to Google ads policies the Punjabi is unsupported language in Google ads and as a result, you cannot promote your music videos in Regional language.

PPC Expert for Youtube Ads in Chandigarh, India
Reach: Video partners can help you engage new users outside of YouTube, so you can increase the reach of your video ads. You can use the same targeting options across YouTube and video partners and measure your performance by using segments.
YouTube views: When a TrueView in-stream ad is watched on video partners, it will increment the view count of your YouTube video.
Impact: Ads on video partners can help customers become more aware of your products and more interested in your brand.
YouTube is the 2nd biggest search engine in the world.
It has over a 1.5 billion users and people are watching 60% more video on the platform year over year.
For marketers and small business owners, this represents a huge opportunity to get in front of a target audience.
Because YouTube ads rely solely on video, the platform can seem a little daunting at first.
You don't need to be a talented movie director to create a YouTube video ad that is going to generate revenue for your business.
What are advertisers getting wrong?
Poorly converting landing pages
Irrelevant Ads with wrong keywords
Not including clear call to action
Not testing for small variations in website
Not monitoring the differences in CTR each time you tweak your website
Not following best guidelines for improving the ad relevancy & boosting the Ad Rank
Let's take a look at how you'd set up a 'non-skippable ad.' First, go to your Adwords account. You can do this by visiting https://adwords.google.com.
Type of YouTube ads – Two types of ads
TrueView in-stream ads
Bumper video ads (short video ads of 6 seconds or less)
Non-skippable in-stream ads created in the display Ad gallery
In broad terms there are two kinds of YouTube Ads: 'skippable ads and non-skippable ads.'
Non-skippable ads are ads that force people to watch. They can only be 15-20 seconds long.
These kinds of ads get better engagement, but they also have a higher abandonment rate.
These ads also tend to get a bad rap because they seem forceful. But, if your ads are good and targeted effectively, they don't need to represent trouble.
Skippable ads are also known as TrueView ads. These are ads that don't force people to watch. These can be shown in two ways: 'In-stream' and 'In-display.'
YouTube doesn't really say that there is a maximum length for TrueView video ads.
What they do provide, however, are some suggestions — especially for the In-stream ads.
51% of In-stream ads run for 15-30 seconds.
If you want to make your ads longer than this, you may want to keep your video length at around 3 minutes (as YouTube has suggested).
In-display ads don't exactly have a suggested maximum run time. These ads can be used to take people directly to a YouTube video, so you can get away with them being long. 25% of videos watched on Tablets are 60 minutes or more.
About video ad formats
In AdWords, you can create compelling video campaigns with a range of video ad formats to engage customers in different ways on YouTube and across video partner sites. Available video ad formats include: TrueView in-stream ads, TrueView video discovery ads, and bumper ads.
While video ad content must be hosted on YouTube, video ads can appear on YouTube and on video partner sites and apps across the Display Network, including on tablets and mobile devices (depending on your format and settings).
This article describes the benefits of video ads and compares the different video ad formats available. Explore the formats in detail below. You can also learn more about our policies and requirements.
About TrueView video ads
With TrueView ads, you don't pay for random impressions or maybe-they-saw-its. You're only charged when viewers watch or interact with elements of your video. There are two types of TrueView ads: in-stream and video discovery.
Benefits
It's a win-win: Viewers see videos they're curious about, and you get more views from an audience you know is interested. Because you choose what you want to pay for a view, you get the right audience at the right price. Unlike cost-per-impression (CPM) pricing, you won't need to pay every time your ad is shown.
Freedom to customize: You can also run videos longer than 30 seconds, so you can experiment with different formats. You can try longer product demos, customer testimonials, or a how-to video demonstrating your product in action.
Broad reach: TrueView ads can appear on both YouTube and other publisher sites in the Display Network for desktop computers and high-end mobile devices. Note that video content for TrueView ads must be hosted on YouTube.
TrueView in-stream ads:
When should I use it?
Use this format when you have video content you'd like to promote before other videos on YouTube and across the Google Display Network.
 How does it work?
Your video ad plays before, during, or after other videos. After 5 seconds, the viewer has an option to skip the ad.
Where can the ads appear?
TrueView in-stream video ads can appear on YouTube watch pages and on videos on partner sites and apps in the Display Network.
How will I be charged?
You pay when a viewer watches 30 seconds of your video (or the duration if it's shorter than 30 seconds) or interacts with your video, whichever comes first.
TrueView video discovery ads:
This format is formerly known as "TrueView in-display ads."
When should I use it?
Use this format to promote a video in places of discovery, including next to related YouTube videos, as part of a YouTube search result, or alongside other content across the Display Network.
How does it work?
Your ad consists of a thumbnail image from your video with some text. While the exact size and appearance of the ad may vary depending on where it appears, video discovery ads always invite people to click to watch the video. The video then plays on the YouTube Watch page or on your channel page.
Where can the ads appear?
On YouTube search results
Alongside related YouTube videos
On the YouTube homepage
As an overlay on a YouTube watch page
On video partner sites and apps across the Display Network
How will I be charged?
You'll be charged only when viewers choose to watch your ad by clicking the thumbnail.
About bumper ads
Bumper ads are a short video ad format designed to allow you reach more customers and increase awareness about your brand.
When should I use it?
Use this format when you'd like to reach viewers broadly with a short, memorable message.
How does it work?
Your bumper video ad is 6 seconds or shorter and plays before, during, or after another video. Viewers do not have the option to skip the ad.
Where can the ads appear?
Bumper ads can appear before other videos on YouTube or on partner sites and apps on the Display Network.
How will I be charged?
You pay based on impressions. Bumper ads use CPM (cost-per-thousand impressions) bidding, so you pay each time your ad is shown 1,000 times.
How do you advertise on YouTube?
Create a Google AdWords Account. Your first stop is Google AdWords. …
Link AdWords and YouTube. Make sure that your AdWords and YouTube accounts are linked together. …
General Settings. …
Set the Locations Where You Want Your Ad to Show Up. …
Upload Your Video. …
Advanced Settings. …
Device Targeting. …
Select Age, Gender, Topics & More.
How does a YouTube campaign work?
Sign in to your AdWords account.
Click the Campaigns tab to select the campaign to which you want to add a new ad group. …
Click the Ad groups tab, and then click the +AD GROUP drop-down menu.
Enter an ad group name.
Next to "Your video," choose a YouTube video.
PPC Campaign Service
PPC Account set up
Research on Potential Keywords
New Campaign set up
Restructuring existing campaigns
PPC Bid Management
Managing & optimizing campaigns for maximum ROI
Building remarketing campaigns & measuring impact
Conversion Tracking through advanced techniques
Targeting people based on age, gender, and location
Targeting smart phone users with mobile-friendly ads
Actionable Account Reviews
Conversion Optimisation & ROI metrics
Ad Extensions and Innovations like Dynamic Keyword Insertion, Site Links, Google Product Centre Integration & Remarketing
Captivating Ad Copy and Split Testing
Executive Reporting
What are the outcomes of our custom PPC advertising campaigns?
Highly Qualified Traffic– We build, tune and manage campaigns that consistently drive quality traffic at considerably lower costs. Our strategy exactly matches to what our clients really want
No Wasteful PPC Spending – We're specialists in running campaigns that lower your spend & generate more value by identifying flaws & reducing wasteful spending.
Higher Returns – Our campaigns is driven by clear business goals & achieve the highest ROI by being effective, efficient & to the point.
Fast Project Payback – Our PPC advertising projects payback quickly, often within the first month.
PPC Service for Youtube Ads in Chandigarh, India
Mobile: 09915337448