PPC Service for Astrology – we provide the best Pay per click (Google Ads) services for Astrology business. We used conversion keywords to generate Astrology calls from USA, UK, Canada, India and Singapore.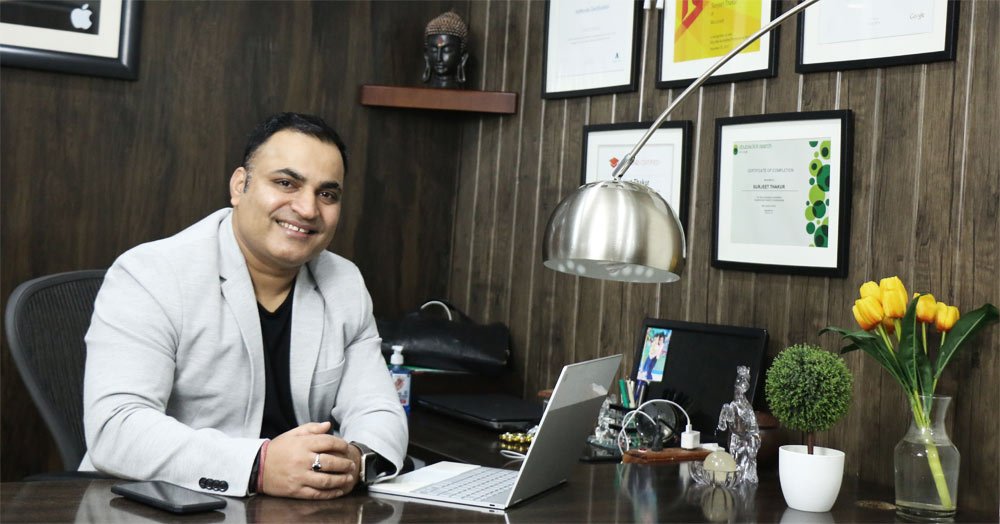 We run your astrology google ads and get first page rank on google with conversion keywords. same day results delivered.
Note:  – "This services for Genuin Govt Registerd Company Only, who already deals in Astrology related business"
call & whatsapp message for more details: 09915337448
PPC Expert for Astrology Ads

we also run youtube ads for astology, bing ads, facebook and instagram ads — very cost effective. client land to the whatsapp messanger directly.
examples of google ads: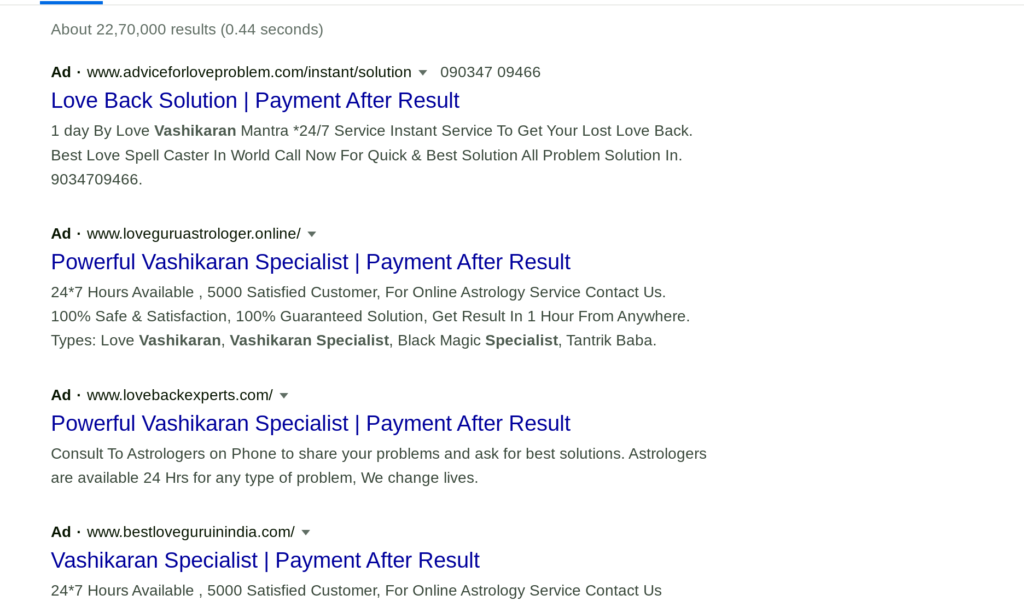 Keywords Research for Astrology – Setting up and maintaining strong, high performing AdWords campaigns for Astrology business takes time, budget and expertise.
But without best keyword research both at the beginning of the project and continually throughout, you will never get the best possible return on your investment.
Contact us for Astrology PPC: 9915337448, Skype: oli-jee
Top best keywords for Astrology ppc:
Best Keywords we used for Google Adwords / Bing / Yahoo gemini ads campaign are: Astrology Expert, Astrology specialist, vashikaran mantra, blackmagic, kamdev vashikaran mantra,  kamdev mantra for attraction, Mantra to get ex love back, Bring back my love fast, Get Boyfriend Back By Vashikaran, kundli match
Must Read: 100+ Best Astrology Keywords List
Vashikaran Mantra for Boyfriend
Vashikaran Mantra for Girlfriend
Bring Love Back By Vashikaran
How to Get My Love Back By Vashikaran Mantra
Love Marriage Specialist Astrologer
Husband-Wife Vashikaran Mantra
Vashikaran Specialist
How To Get Lost Love Back
Get Lost love back
How To Get My Love Back
Get Your Ex Love Back By Vashikaran
PPC for Astrology
Pay-per-click ads, otherwise known as PPC or Sponsored Ads, is a type of Internet Advertising that can be placed on search engines, advertising networks, and blogs. For purposes of this article we will only focus on PPC ads hosted on Google.
Pay Our Service Charge After Your Satisfaction Only.
Get Only Targeted Customers & Visitors for Your Product or Services.
Get Your Website Ranked On Google Search Engine Through PPC Expert.
Get Good Returns on Your Investment through Our PPC Expert.
Get Re-Marketing Facility To Promote Your Products or Services to Get More Sale.
Get Tracking Report of Each Conversion through your Ads.
Get Daily Report of Your Previous Day Ad Performance.
Why our PPC Services are Best for your Astrology  Business?
Our PPC services for Astrology, We are always present for support of your all problem's solutions.
We provide low-cost services
No set up fees
We assure you guaranteed results for your business
Provide more leads and inquiries from being found online
We sure for better return on your minimum investment
15+years of experience in PPC services
100% security and 24/7 availability
There are a number of basics that need to be covered in order to help you stand out from competitors on search results pages. These are changes that can be made relatively easily and quickly to give you the edge on your competition:
HOW DO I SET UP Astrology  PPC CAMPAIGN IN GOOGLE?
Step One: Create a Google AdWords Account
Create a Google AdWords Account
Set up an account in Google AdWords. It is helpful to read the AdWords beginner's guide which is located in the 'help' section of the website.
Step Two: Set Objectives
Set Campaign Objectives
Objectives are usually measured by how many conversions you receive on your site. A conversion is when someone takes a desired action such as booking a room night. Set specific goals with real numbers and real time periods.
Then you will be able to measure your ROI to see if your campaign is successful or not.
Step Three : Conduct Keyword Research
• Brainstorm List
A good place to start is to take a look at your website and make a chart with all your main categories. Then write down the relevant keywords under each category. Think from your target audience's perspective and imagine what they may be searching for.
• Expand List with Keyword Research Tools
Once you have your initial list you can use keyword research tools which will help you expand your list and suggest words you may not have thought of. Google has a free tool called the Google Adwords Keyphrase Research Tool.
• Do Competitive Research
You should also see what your competition is doing. SpyFu.com is a fantastic tool that allows you to type in a competitor's url and it will show you a list of all their PPC keywords, their daily ad budget, total clicks per day, and average cost per click.
You can also go to Google and search on a word or phrase that you would like your ad to show up for and see which other hotels are advertising for that keyword.
• Use a mix of short-tail and long-tail words
When selecting your keywords it is important to use both short-tail and long-tail words. Short-tail keywords are broad terms that people may search on initially i.e. 'Astrology expert'.  However these keywords are usually competitive and can be expensive.
Long-tail keywords refer to keywords that are targeted to a more specific audience i.e. ' Astrology vashikarn mantra'. These phrases may have less search volume but a better conversion rate.
• Group Similar Keywords
Group your keywords based on your services. For example, if you have a keyword list for 'activities' you can group together keywords related to 'vashikaran' 'astrology' 'astrology expert in USA' etc. Then you can use these keywords when you create your adgroups.
• List Negative Keywords
Negative keywords are related words that you don't want your ad to show up for. For example if you are a hotel and one of your keywords is "wedding" you don't want your ad to show up when someone searches on "wedding dresses" so you would put a negative in front of it "- wedding dresses".
Step Four : Plan your Campaign Structure and Write Ads
Plan your Campaign Structure
Your campaign in Google Adwords is organized into three tiers:
• Account. Your account includes your password and billing information.
• Campaign. The campaign is the overall feature you are focusing on i.e. Leisure, Meetings, Spa. Each campaign has its own budget and targeting options.
• Ad Group. The ad group consists of a set of ads and a keyword list that the ads will show for. The ads in your ad group should focus on related keywords.
Write Text Copy
Your ad copy is very important because it must entice the viewer to click on your ad. There are a few things to think of when writing copy.
• Position your keywords in the headline and body text
• Point out what sets you apart from your competition
• Include special promotions or discounts
• Have a call to action
• Make sure your ad links to a relevant landing page (on your site or stand-alone)
Ad Elements
There are 3 standard elements to a PPC ad.
• The headline – which also links to your website or landing page (25 characters)
• Two lines of ad text (35 characters each line)
• The URL of the website or landing page (35 characters)
Step Five: Plan your Budget
Daily Budget
You have total control over what you are willing to spend. Google AdWords breaks the costs down through the daily budget, bids, and ad quality. The daily budget is the maximum amount which you are willing to spend on the campaign every day.
The higher your budget the more often your ad will be shown. Your ad will stop showing for the day once your budget is reached.
Bid for Keywords
When you run a bid-based campaign you compete with others by bidding on keywords. You bid on the cost-per-click (CPC), which is the amount you are willing to pay when someone clicks on your ad. A higher bid can increase your chances of having your ad displayed in a top position, however Google also considers your quality score.
Quality Score – Focus on Relevancy
Google gives your ad a quality score by looking at the relevancy of your keywords, ads and landing pages. The higher your quality score, the lower you will be charged for cost-per-click. Google does this to encourage quality ads that will be relevant to the phrase being searched.
Step Six: Track and Measure Performance
Performance Reports
You must monitor the performance of your PPC campaign to assure that your ads are meeting their goals and you are making a profit. Google AdWords allows you to run performance reports, see your quality score, and track your return on investment.
Test your Ads and Landing Pages
If your campaign isn't meeting your goals you must modify your ads to make them more effective. It is very important to test different ads, keywords, and copy to see which ones attract your target audience the best. Drop the ads that are inefficient. You can use split a/b testing to test your landing pages.
You can do this by using two ads with the same ad copy but one ad will link to landing page (A) and the other ad will link to landing page (B). The results will show you which landing page is more effective in drawing the customer through the sales funnel.
Set up the Conversion-Tracking Feature and Google Analytics
The conversion tracking feature shows you how many sales or leads your campaign is generating. Google Analytics provides you with information about your visitors' behavior. The help center in Google AdWords provides you with step-by-step instructions on how to install these features.
Look for a future 'tip of the month' where we will discuss the importance of Google Analytics.
Google policy for Astrology business – Google update their policy day by day… but you don't worry we regular update with that… 
we also do seo for astrology and provide 100% results.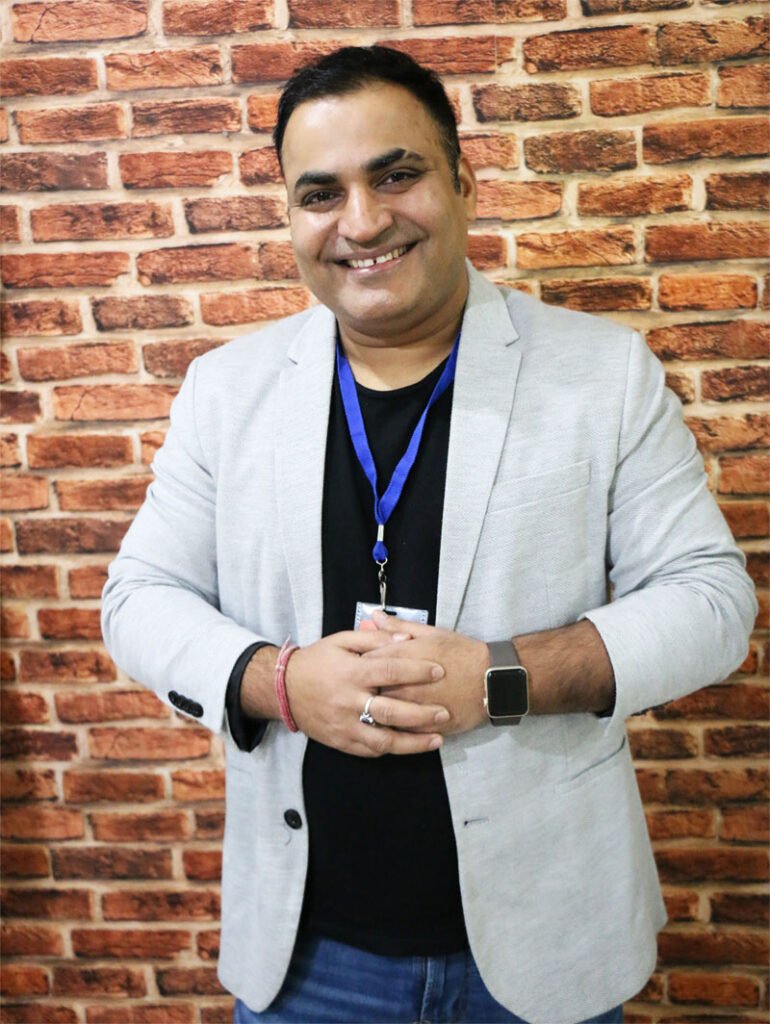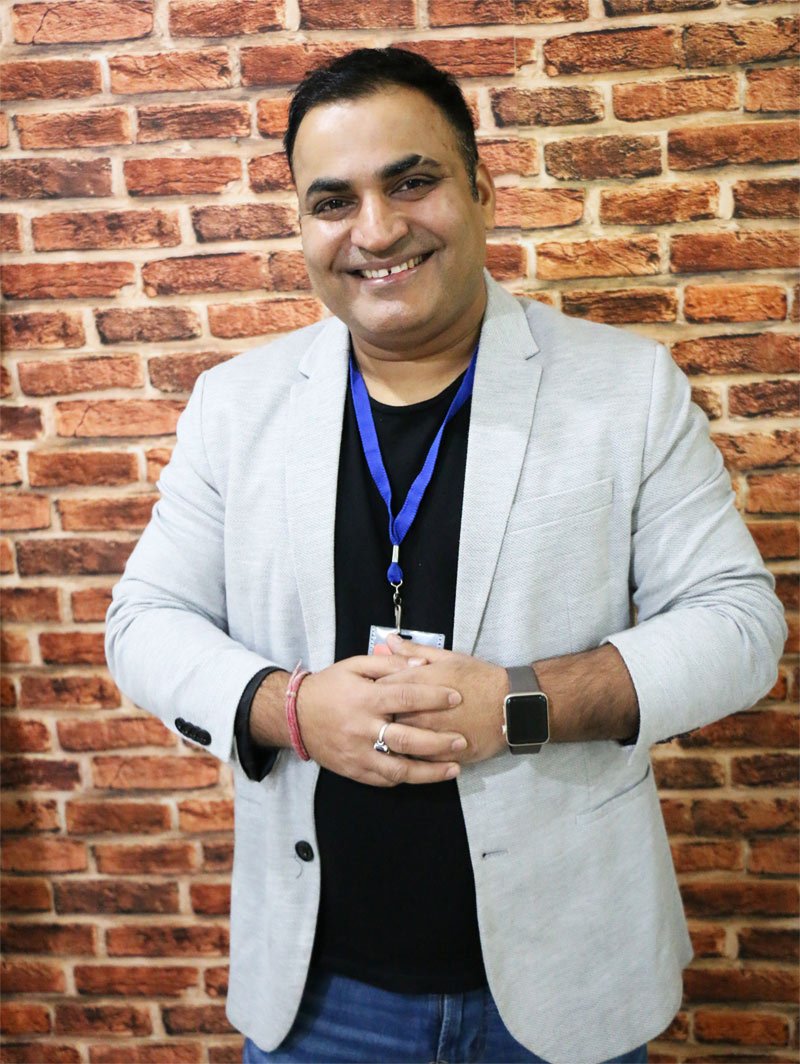 Contact Us for Astrology Pay per click Service: 9915337448, skype:oli-jee