Are you looking for Google Ads campaign expert for scrap / cash for junk car service / Companies / Buyers / Dealers
Hi friends,
Today I am going to discuss about Google ads for Scrap Car Dealers / Buyers business. here you will learn how this business working and what is the importance of Google ads of this business.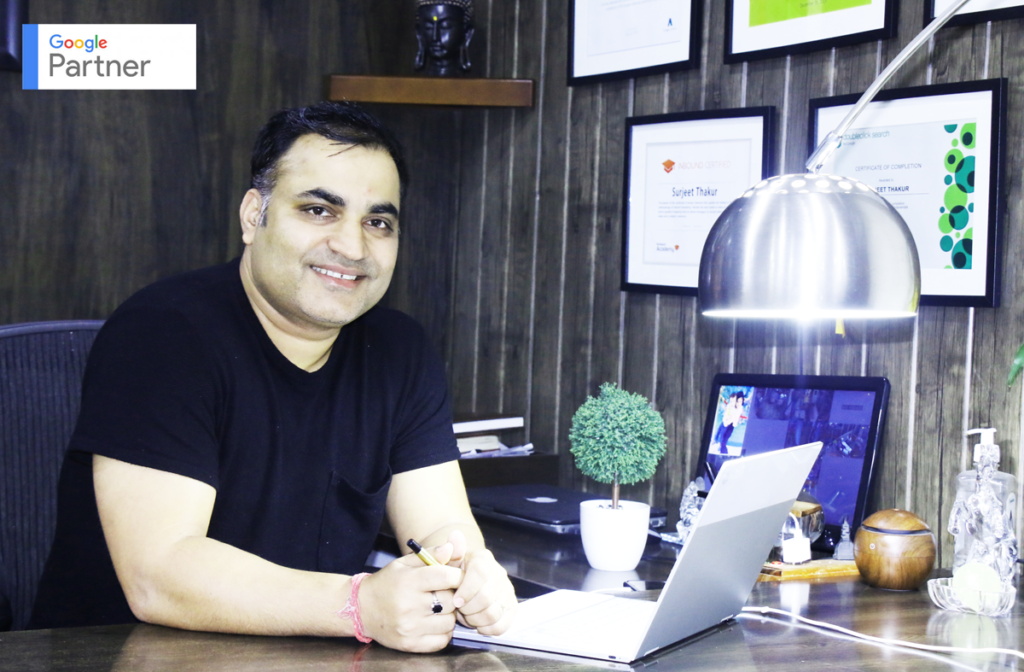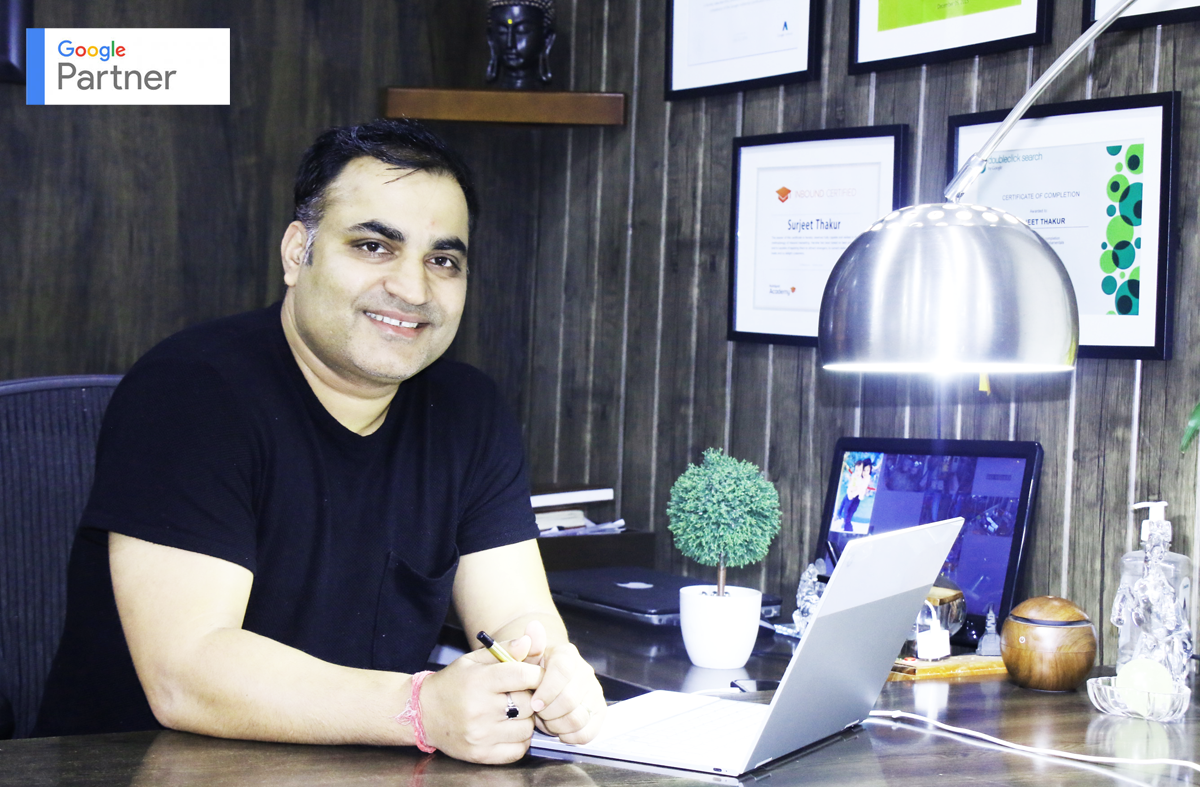 I am Surjeet Thakur, Google Ads Certified Professional who already working with 20+ Car Scrap companies to provide Google ads Services from India, Uk, Canada, USA and Australia. I do provide expert services for their business and well aware of their daily problems which they are facing… with
Problems are:
Not showing on top of first page
Spending too much
Not enough conversions
Competitors Click on their ads
Very high Click Rate
No other ads medium available
if you are facing such problems then you are in the right place, I will help you fix these problem and provide you the best solution for your scrap car business. believe me – you will get the results within 1 working day.
for old clients:
if you already running Google ads for Car Scrap business. you can just share your Google ads 10 digit customer id. that's it
I will review your account and give the best advice and solutions. Call @ 9915337448, or whatsapp @ 9915337448, Skype: Oli-jee
for new clients…
if you are new in this business. don't worry. I will help to create / setup Google ads account / websites / landing page – whatever it's required. – within 4 days you will run your business smoothly.
How Looks Scrap Car Ads: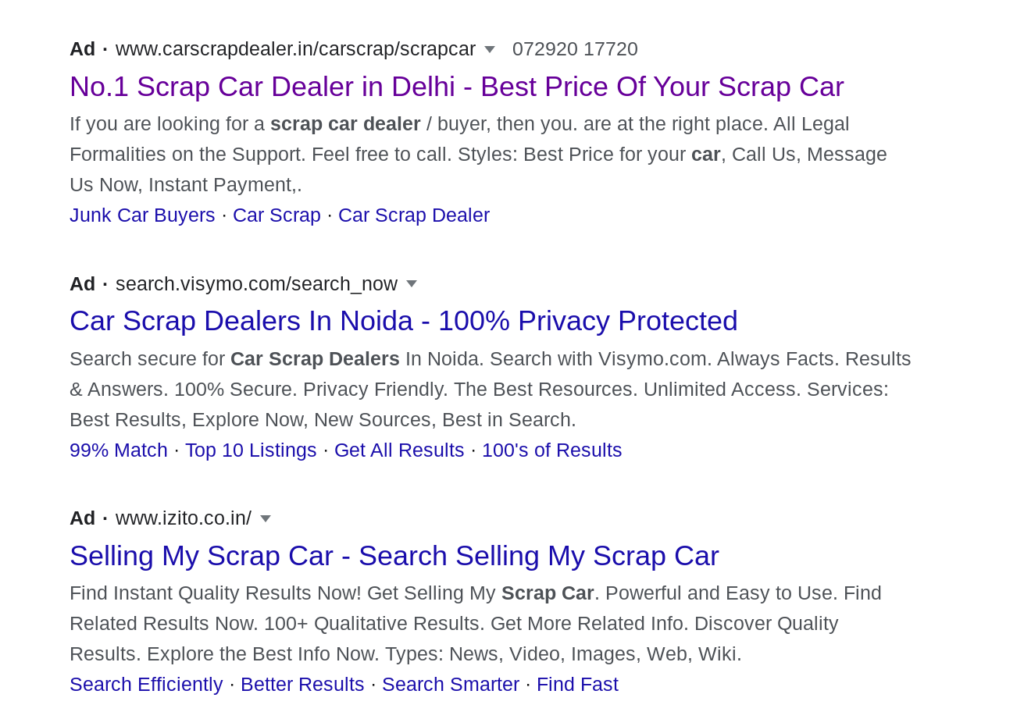 Top Keywords for Car Scrap Dealers/Buyers
+car +scrap +dealers
+car +scrap +buyers
+scrap +car +dealers
+junk +car +dealers
+cash +for +car
+car +scrap +dealers +cityname
+cityname +car +scrap +buyers
car scrap dealers near by me
car scrap buyers
cash for scrap car
cash for junk car
junk vehicles for sale
there are more keywords and negative keywords list..  and ads Campaign strategy and account structure I always used for my client ads campaign to getting first position rank and good conversion call flow.
let's discuss about the business…
What is Car Scrap Business?
Scrap Car business requires a lot of approach. You must know where to get car scrap from.
You will have to advertise your services so that seller will find you and call you for the service.
but this is not an easy, it takes so much time and money. But with the help of PPC Services – Google ads services you will find the seller online.
What is Car Scrap?
A car can turn into a piece of junk after an accident or it can just age and emit harmful gases and pollute the environment.
Such a car is declared as scrap car by law. If your car is declared scrap, you are no longer authorized to drive it.
 following cars for scrap:
Insurance write-offs
Junk and salvage cars
Damaged cars
Fleet cars
Flood damaged cars
Foreign cars not registered
Non runners
Part-exchange cars
MOT failures
Abandoned vehicles
How To Sell A Scrap Car?
While selling your scrap car, you will have to provide a copy of your RC and bank NOC to the person/ business who will scrap your car.
Make sure to collect your chassis number plate from them, inform the RTO and follow the process described above to de-register the car from RTO records.
if you are doing buy Scrap Cars, junk cars, and Wrecked car total loss cars business. Surly I will help  you to get top position in Google ads for these searches – Car Scrap Dealers, Car Scrap buyers etc..
Thanks for your time to read this…
Call for any help or assistance: @ 9915337448