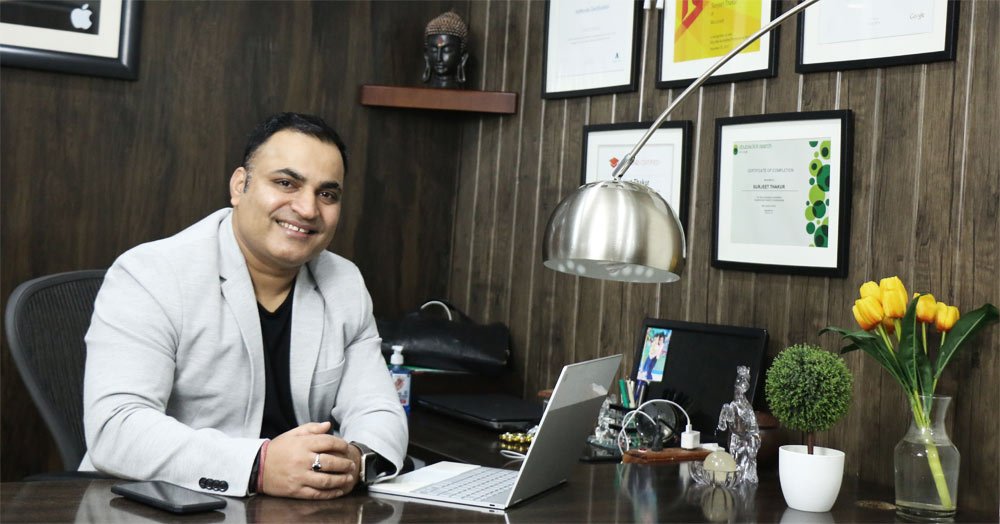 PPC Expert for Kitchen Interiors – The Kitchen Interior business is thriving these days. However, the competition also is increasing at a rapid rate.
As a kitchen interior company or business, you must outsmart your competition with effective digital marketing strategies or risk losing (or not gaining) clients – which is, of course, a huge NO-NO, especially during such trying times, wherein uncertainty has become the new law!
Hello! I am Surjeet Thakur, a certified PPC Ads expert with 14+ years of experience under my belt. I can catapult your kitchen interior and interior designing business to new heights with highly effective Pay-Per-Click (PPC) ad strategies that will provide you great dividends in both the short term and the long term.
I already have a long list of clientele, operating in Canada, the US, the UK and India. If you want to see my portfolio and my ad spending so far, get in touch with me right away.
Call & Whatsapp
For more details and services: 9915337448
PPC Ads for Kitchen Interior Business
Most of the small-to-medium scale kitchen interior and interior designing business are not very active on the Pay-Per-Click ad front. This means that you may have a first-mover advantage which can go long-way in thwarting your competition. Besides outsmarting your competition, PPC Ads will provide the following benefits for your kitchen interiors business:
1) Get Fast Results
It is not feasible for companies to wait for top organic rankings to get customers. Getting to the top of the search results can take years, especially if there are trusted players ruling the position for years. With Paid ads on Google, you can even attain the top positions of the search results and make many new customers.
2) Cost-effective
PPC Ad campaigns allow you to have complete control over your budget. As an interior designing business, you only pay when a user clicks on your ads to land on your website. You can optimize/edit your ad campaigns whenever you wish to!
3) Target only your potential customers
Unlike traditional methods of marketing, with PPC ads you do not spend even a
single penny on a user who isn't your potential customers. Only those who are searching for similar products and services as yours will be shown the ads.
4) Independent of algorithm changes
Search Engines like Google and Bing keep updating their search algorithms on a regular basis to provide the best search experience to the users. These algorithmic changes often affect the organic rankings overnight. However, the good part is, the changes don't affect PPC ads much, so your interior designing business shouldn't ideally be affected by any new algorithmic updates.
Call & Whatsapp
For more details and services: 9915337448
Common Search Items for Kitchen, Interior Designing
Many people often search for the following products/services, implying that there is a lot of potential in this industry:
Kitchen and Wardrobes
Interior Planning
Interior Consultancy
Doors and Door Frames
Office Furniture
Seating Systems
School, College and Institute Furniture
Custom-made furniture design
Why choose Surjeet Thakur for Kitchen Interiors Marketing?
Well, there are many reasons to do so:
I have a great experience in marketing kitchen interior products
Since I have made millions of landing pages so far, I know what your customer is looking for. With this knowledge in mind, I design landing pages that actually convert.
I am a certified PPC Ads expert (Both Google and Bing)
I will help you generate more leads against the least possible ad budget
Unlike other marketing companies, I will not trap you into a yearly contract. You can enjoy complete flexibility and freedom as my client. Since I know I will be getting the desired results for you, I have no reason to bind you through a contract, especially when I am aware that we can have a lifelong fruitful relationship once you get a good return on investment (ROI) right from the start.
I put great emphasis on long-term keywords and cross-channel retargeting
I will provide you comprehensive reports so that you can keep a track of the funds being spent and the revenue being generated
I will focus on every stage of the funnel
Let's Connect
We can start with PPC ad campaigns for your kitchen interior business right away! But that would require you to get in touch with me at the earliest.
As an interior designer, you can benefit a lot from my years of experience in the digital marketing field. Reach out to me through any of your preferred method:
Phone/Whatsapp: +91-9915337448
Email: surjeet@ppcchamp.com
Skype: oli-jee
I hope that you make it big with your kitchen interior business. Good luck!