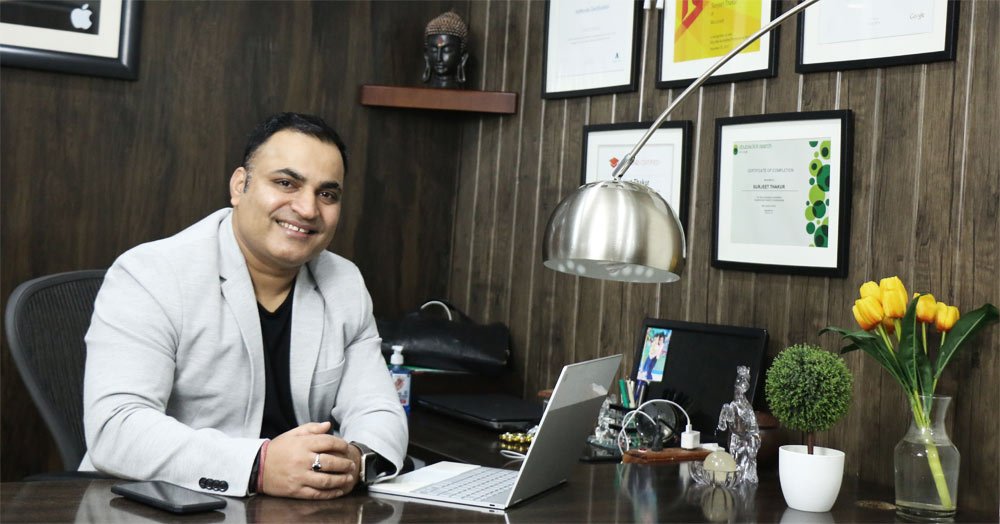 Digital Marketing Services for Ayurvedic Products| Strategy & Future Scope
Digital Marketing for Ayurvedic Products – Do you know the best way to advertise Ayurvedic products that have just been launched? Digital Marketing!
Digital Marketing is a great platform to advertise all kinds of Ayurvedic products – whether new or old. Therefore, if you want to increase the reach and popularity of your Ayurveda-based products, you have come to the right place.
I am Surjeet Thakur. I am a digital marketing (Google Ads expert) with more than 14 years of experience in the field. Over the last few years, I have helped many Ayurveda startups and businesses generate huge ROI with my digital marketing expertise.
Call or Whatsapp
For more details and services: +91-99153 37448
Ayurveda after COVID-19 pandemic
The market of Ayurvedic products has witnessed a huge growth after the breakout of the COVID-19 pandemic in early 2020.
Since then many new brands have entered the landscape while existing ones have introduced a wide range of immunity-boosting supplements and herbal teas.
If you wish to gain customers in such a highly competitive market, you have to advertise your products well, besides of course manufacturing high-quality medicines, oil, supplements and teas. The market is expected to grow at a rapid pace in the coming years as well.
I provide digital marketing solutions for Ayurvedic product like: Joint problem, High Sugar levels, Piles, skin problems, hair care.
Why you should market your Ayurvedic products online?
Gone are the days when marketing new products in local markets and door-to-door were enough to create a buzz among a segment of the population.
These days, even newspaper and TV ads aren't enough to make groundbreaking sales. That's why you will see Ayurveda giants like Patanjali, Himalaya and Sri Sri Tattva resorting to many internet marketing methods, such as Google Ads.
Millions of Google searches are made In India everyday by customers looking for the purest quality of herbs that provide maximum relief in the shortest possible time.
Products like Ayurvedic face wash, face packs, acne creams, scar removal creams, moisturizing lotions, pure extracts supplements, immunity-boosting spices, and stress fighting teas are in very high demand in today's time.
More Benefits of digital marketing for Ayurvedic products
Low cost
High ROI
Wide reach – only target individuals who will be interested in your Ayurvedic product
The best marketing method for new brands and existing brands that do not have a very high marketing budget.
High conversion rate
The results of the campaigns can be monitored in real time. If the results are unsatisfactory the campaigns can be edited with just a few clicks.
Call or Whatsapp
For more details and services: +91-99153 37448
Ayurveda across the globe
Until recently, most of the foreign nations were unaware about this Indian system of healing. However, now Ayurveda is being practised in every country in some form. One of the reasons behind the popularity of Ayurvedic products in abroad is digital marketing.
Many Indian brands started running their ads on Google and social media and began shipping their products from here. Slowly the companies started to gain footing and opened their manufacturing units and stores in foreign nations.
Himalaya Wellness is a good example if you wish to study how you can take quality products to most parts of the world. Founded in 1930,
Himalaya Herbals (now known as Himalaya Wellness) now has presence in 105+ countries. They offer a wide range of pure herbal supplements, pharmaceutical drugs (herbal), beauty products and even a veterinary product segment.
How I have helped many Ayurvedic companies
I have received the marketing projects of many Ayurvedic companies in the last decade. Since 2020, I am receiving regular projects of many new brands that have very tight budgets. Despite the tight budget, I have generated huge profits for them through digital marketing.
I follow a multi-dimensional approach for every project. For example, unlike others I don't just stick to one platform to generate revenue. I work hard on all the following vertices:
Sales Funnel / Leads Funnel Strategy
Google Ads and Social Media Ads (PPC)
Social Media Marketing
YouTube Marketing
Email Marketing
Web designing
E-commerce Marketing
Affiliate Marketing
Blogging
Local listings
Setting up product listings on Amazon, Flipkart and other online stores
Search Engine Optimization (SEO)
Through all these multiple platforms, I help companies increase their revenues anywhere from 5X-10X. If you are starting up an Ayurveda business or are struggling to generate any considerable sales from your existing brand, feel free to contact me at any time of the day. You can contact me through the following modes:
Phone/Whatsapp: +91-99153 37448
Email: surjeet@ppcchamp.com
Skype: oli-jee