Dear parents,
are you thinking to put your child in top Sainik School? here is the list of Top 5 Best Sainik School Exam Coaching Academy in Chandigarh with Fee & Hostel Details…
Then you are on the right page and I hope the list below is helpful to you.
But the admission in Sainik schools is strictly based on entrance test. Now if you are thinking of how to prepare your child for entrance exam of Sainik School? You don't need to worry about it because after reading this article till the end you will surely have the solution.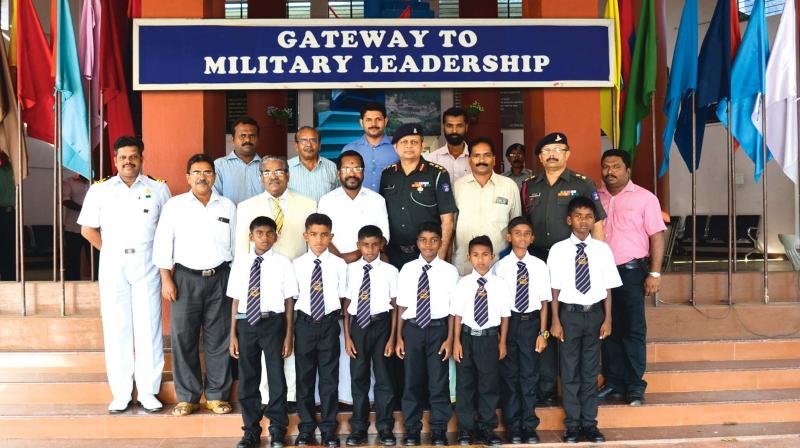 There are large numbers of institutes in Chandigarh that provide the Sainik school coaching. But the difficult part for the parents is to choose the best one.
Sainik School Exam Coaching Academy
Call on this number to get the free guidance 9915109266
So, here we are going to discuss top 5 Sainik School Coaching Institute in Chandigarh that will help your child to crack exam and get admission in Sainik School.
About Sainik school
Sainik schools are all boys' residential schools governed by the ministry of defense. The entrance exam is held only for students aspiring to join VI and IX standards. Sainik schools are best and well known for punctuality and discipline.
All these schools are affiliated to CBSE board. Students in Sainik school are taught in a highly educated manner so when they grow up, they become a person of proper personality, discipline lifestyle and amazing communication skills.
So overall a student of Sainik School is expected to have lot of qualities, a sound academic record, and physical strength
For complete admission procedure check here
How your son's life style is different if he is in Sainik School?
If your child dream is to join Indian defense in future then for this your child should join Sainik school and complete their schooling from it
The main aim of Sainik School is to prepare a candidate for Defence.
Sainik School trains its boys mentally, physically and academically, So that they can join Armed Forces through National Defence Academy Examination. They also prepare students for NDA exams.
Most of the students of Sainik School are selected in defense.

Adventurous life style and training for Swimming, Horse riding, etc)
Syllabus:
Syllabus comprises of following subjects
For Class VI:
Mathematical Knowledge – 100

Language Ability Test – 100

Intelligence Test – 100
For Class IX:
Mathematics – 200

English – 100

Science – 75

Social Science – 75

Interview – 50 marks for both the classes VI & IX.
Check complete Sainik school syllabus for entrance exam in detail.
Eligibility:
Gender: Boys
Region: All India
Class: students seeking admission in class 6 and class 9
Age:
•

   

Class 6: should be 10 -11 years

•

   

Class 9: should be 13-14 years
Check Sainik School fee structure
Here is the list of Top 5 Sainik School Coaching Institute in Chandigarh.
For free guidance call 9915109266 
Chandigarh Academy
Why to choose Chandigarh Academy?
Chandigarh Academy is a NO.1 academy in Chandigarh that provides coaching for Sainik School and also has many years of experience. Chandigarh Academy provides quality education and this can be validated by the performance of its students who are selected in different Sainik schools all over India.
This academy has now become a brand Academy for coaching of Sainik School

Their faculty has the dedication to deliver remarkable results- time and time again

Chandigarh Academy is a place that works on your child skills and attains a level that you may never have realized was possible

They provide study material in the form of well-printed assignments prepared by their faculty member.

Their study material gives the students a right path for preparation.

They also provide hostel facilities to the students.
Visit here: Sainik School List
Address: S.C.O 54-55, 3rd Floor, Sector 34A, Chandigarh, 160022

Phone No. 098783 75376

Timings: 7 am to 9 pm
Website: http://www.chandigarhacademy.com
Surbhi Academy
Why to choose Surbhi Academy?
Surbhi Academy offers all India Sainik school entrance exams coaching in Chandigarh.
Surbhi Academy is famous for its selective class management classes and productive results recognized best all India sainik school entrance exams coaching institute in Chandigarh.
The faculty at Surbhi Academy is highly qualified and has vast experience in successfully coaching students for Sainik school entrance exam.
Surbhi Academy is known as leading institute for preparation of Sainik school entrance exam coaching in Chandigarh. They provide coaching for Sainik school entrance exam from the past 10 years.

Instead of mugging formulae, their experienced faculty wants the students to understand the concept by following simplest possible approach to solve the problems.
                       For admission inquiry call 9915109266 
Address: Building No 54-55, 3rd Floor, Back Side, Sector 34 A, Sector 34, Chandigarh, 160022
Om Rankers creator
Why to choose ORC?
They provide excellent coaching for the entrance exam for 6th and 9th class to the well reputed Sainik school entrance with high efficiency.
ORC Academy helps quality students in developing command over the basic fundamentals, concepts, and principles of various subjects through detailed problem-solving.
ORC Academy prepares the children academically, physically and mentally for entry into good public schools in the country including Sainik Schools
ORC Academy provides the students primary level of education with special emphasis on all round development of personality.
Address: SCO 371-373, 4th Floor, Sector-34 A, Chandigarh
Phone No. +91-78140-11022,
Website: http://www.orcacademy.in
Mitochondria Tutorials
Why to choose Mitochondria Tutorials
Mitochondria tutorial is an institution engaged in training students for the Sainik School's entrance examination.
Mitochondria have an excellent track record of having facilitated many students to join  all India Sainik schools
Small Batch Size aims for Individual Attention. Not More Than 10 Students Per Batch
Address: Stepping Stones School Campus, Sec 38 a, Chandigarh, 160014
Phone No. 090416 01957
Website: http://www.mitochondriatutorials.com
IQ Institute
Why to choose IQ Institute
IQ Institute provide the best coaching in Sanik School exams
The aim of IQ Institute is to provide quality education and guidance to students.
Guidance on each technique by the experts for all the entries in defense forces.
IQ Institute has immense experience in the field of education. They have highly qualified teachers that provide quality of education to their students which help students to achieve their goal.
Address: SCO- 274 sector 32-D, Chandigarh 160032
Phone No. 097792 92222
Website: http://iqchandigarh.com/
Hope the above enlisted Top 5 Sainik School Coaching Institute in Chandigarh would be helpful to all. Above discussed institutes have best teachers available. In above- discussed institutes, their address, and phone numbers are also given, just visit once and choose the best one for your children.
There are many institutes in Chandigarh that provide Sainik school coaching and out of all these Chandigarh Academy and Surbhi Academy are on the top list and many of their students have been selected in Sainik School.
Thanks
Call for free Sainik School Exam Guidance : 9915109266