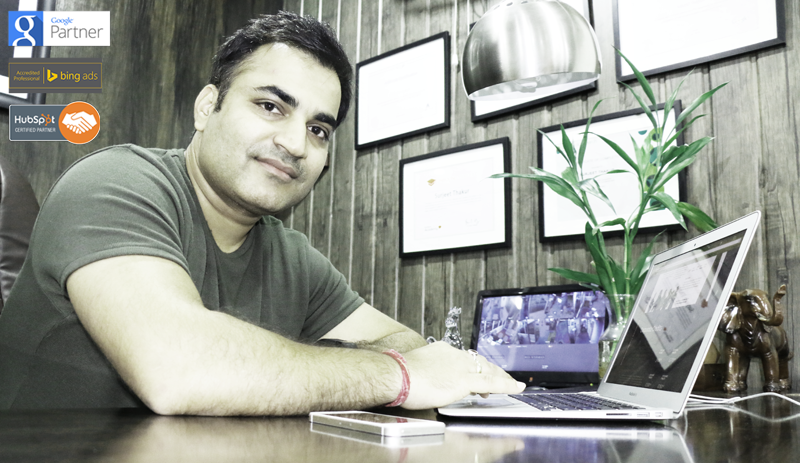 Surjeet Thakur is serial entrepreneur, PPC Expert (Adwords), Growth Hacker, Digital Marketer, UX (Product User Experience) & CRO (Conversion Rate Optimization) Expert. He is Master in Computer Science & Google / Bing Individual Certified. 15+ years working experience – His personal goal in life is to encourage and assist  50,000 people to become Digital Marketers.
Surjeet spends his time working with the marketing research teams at the company and helps clients understand how to solve their business, UX design problems & increase revenue.
Surjeet have managed over $30 million in online ad spend (Adwords/bing/facebook) and generated million in revenue for clients.
Surjeet believes => Drill Grill and Chill Theory
He always help Startups / companies and assists them to improve their ROI. You can follow Surjeet on Twitter at @surjeetthakur07. learn how surjeet learned online marketing
PPC Expert (AdWords™) in India
Surjeet Thakur is the founder and MD/CEO of PPCChamp – Digital Marketing & Consulting Company, Webtech Learning – (Web Education Academy) , Problab Technologies (p) Ltd. , Ieltslearning , ChandigarhAcademy, Kidslearning and CIIM.IN (Chandigarh Institute of Internet Marketing).
Has 15+ years  experience of PPC (Adwords), Web Product UX Research, E-commerce Development and Digital Marketing (SEO/SMM/SEM). He has worked with global brands and product startups. Like:BMW, WIZIQ, EDUCOMP, UTRADE, PPCChamp, AgentsBids, CIIM, ConversionExperts, and MedisysKart etc.
If you're anything like me, you're always looking for a way to gain a competitive edge online…
Rank higher in the SERPs.
Increase social engagement.
Build an email list.
Drive traffic.
Convert your visitors.
Make money online.
Consulting for:
 Services for:
Google Adwords Consultant & Management Service
Search Engine Optimization (SEO) – white level + algorithm update
Pay Per Click (PPC) – (Google Adwords, Campaign management + filter) PLA Ads, Retargeting, conversions goal
Google Analytics (GA) + reporting
Landing Page Optimization (LPO)
Conversion Rate Optimization (CRO)
Domain expertise:
→ Product Startups,, Holidays Travel, Healthcare & Hospitals, Solar Energy, Real Estates
→ Educational Business & Travel Business
→ Music / Video Promotion / Branding & Adv.
→ e-Commerce Product UX Design / Development & Online Marketing
→ Electronic Trading, e-Learning
→ Portal & Community Network Applications,
→ Mobile Application
Surjeet's values
Give our clients the same advice we would give our best friends.
Approach and treat every business and website we work on as though it were our own.
Provide systems for marketing that are easy to implement, measurable, and effective. No smoke-and-mirrors or "filler material."
Tell clients the truth, even if that's not what they want to hear.
Help all clients dominate their market or niche and work only with clients who have the same ambition.
People look for two things:
Simplicity : any person can understand it
Usefulness: it adds value by saving time and energy
 Specialties: →
Entrepreneurship, Online Marketing, Pay Per Click, e-Commerce Business, Tech Support, Product Development, Product Marketing, Lean Startups, Managing Startups, Managing and Motivating Teams, Startup Founder, Team Building, User Experience Design, User Interface Design, Agile and Scrum Process, UX Research,Front-End Development, Usability Testing, User Experience Leadership and Project Management and Product Innovation and Market Research.
Certifications
Certifications
Master in Computer Science
Google  AdWords Certified Professional
BingAds Accredited Professional
Google Analytics Certified Professional
Google AdWords Partner
Surjeet Thakur
Wanna get started? Reach out to an Expert today! call us at +91-9915-337-448 or via email at surjeet@ppcchamp.com, Skype: oli-jee
– Thank you for encouraging my behavior! 🙂